Ways To Create More Online Leads For B2B SaaS Companies
---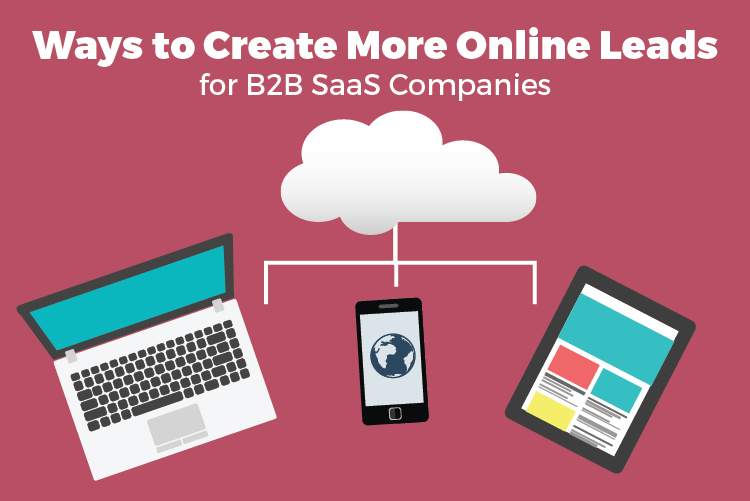 You've created the best B2B SaaS tool in your industry. Your prospective customers should be banging down your door because your software solves their problem easily and elegantly. We all wish it was that easy, but getting qualified online leads is very difficult for many. However, It doesn't have to be; this blog lays out five strategies to create more online leads for your B2B SaaS company.
---
Give every page a purpose.
Your website is a conversation with your potential customers. Make sure that it is easy for them to find the information they need. Design each of your pages with a purpose and a call to take action on that purpose. In order for your website visitors to become online leads, your site must educate them and give them an opportunity to raise their hand to work with you. For example, on a product page, give your visitor product information but also include an offer to discuss how your product will solve their specific problem.
Sell with benefits, support with features.
By now, anyone who has ever read a sales book knows that a good salesperson emphasises the benefits of their product instead of just the features. For example, a benefit statement, such as, "Our software allows your sales team to sell 30% more by providing them with the information they need in the field," will be more effective than saying, "Our cloud-based database securely holds 30GB of data and is backed up daily."
It has widely been thought that B2B sales decisions, including B2B SaaS implementations, were sold more on logic than on emotion. However, even B2B purchase decisions are driven by emotion and then rationalized using supporting information. Use this information to your advantage. Lead with your benefits, but make sure to support that information with features, so the purchasing manager feels justified in making their decision.
Pair each post or page with a relevant lead magnet.
Every post or page of your website has a message or purpose that it is trying to convey to readers, but many B2B SaaS companies are trying to collect leads with just one all-inclusive lead magnet (free content you give away in exchange for lead information).
Connect each of your primary blog categories to a lead magnet that is relevant to that category and pair an opt-in for that lead magnet with each related post. By offering a deeper dive into a subject they just read about, you are much more likely to get an opt-in.
Include opt-in forms in several areas of your site.
Speaking of opt-in forms, don't just put one opt-in form in the sidebar of your website, or on your home page, and expect the leads to come rolling in. Make it easy for your audience to give you their information. Some places to test opt-in forms include homepage banners, floating ribbons on the top or bottom of every page, side bars, at the bottom of every blog post and possibly slide in or pop-over forms, if you are comfortable with them. Test what works in your market, and keep the forms that perform well for your business.
Use smart forms and smart content.
This is an advanced strategy, but for those of you that use marketing automation software, such as HubSpot, you can use smart content and smart forms to further qualify your online leads and ensure you are only scheduling sales calls with qualified contacts. Smart forms allow you to learn more and more about your leads as they continue to consume your content.
Here is an example: Your typical opt-in form asks for Name, Email and Role. Once a lead has filled this information out for one of your content pieces, your smart form will substitute a new field for a field with information you already have. The new form, will now ask for Name, Email, and Company Name. You can keep cycling through additional fields to get more information. As a contact downloads more of your content they will provide you with more details about themselves and this will further qualify them as a warm lead for a sales call.
Once you have this information, if you have built your website on the Hubspot Content Optimization System, you can feed tailored content to your leads. This content is dependent on where they are in your sales cycle and which buyer persona they represent, and will send the right message at the right time.
The B2B SaaS space can be very competitive, and getting a consistent flow of online leads can be difficult. Implement the five strategies above and you will be well on your way to a full sales funnel.
Accelity is a Hubspot Partner agency. If you want help implementing any of these strategies, including Hubspot implementation, we'd love to talk to you.