---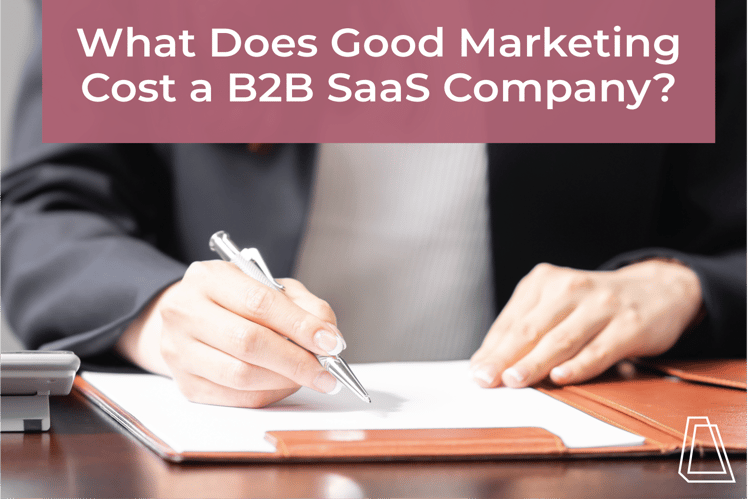 Founders and executives ask me this question all the time: "How much should I spend on marketing?" And the answer is... it depends. You can do marketing with no budget, but you get what you pay for. If you have no money, you have to be willing to put in the time to be successful.
That said, many earlier stage companies spend thousands of dollars on marketing strategies that don't produce results. It's easy to get bogged down on everything you're told you "need to do right now." In the end, it comes down to having a plan that fits your growth stage and goals.
But really, how much should you be spending?
How much you should invest in marketing your B2B SaaS company is entirely dependent on the present stage of your organization. The best way to look at your monetary investment is as a percentage of your company's revenue.
I'm a startup.
Depending on what funding route you took, you may not have much to allocate toward marketing efforts, but it's crucial to establish a solid foundation for future growth.
While you're ramping up sales to be able to afford more marketing, invest around 10-20% of gross revenue on marketing.
Take your budget further with these low-cost strategies—and read on for common marketing strategies that are a waste of money for startups
I'm an established company.
Now that you've been in business for a little bit and have some brand equity, you don't need to allocate such a large portion of revenue towards marketing.
Although marketing efforts are still imperative, your company is likely bringing in more revenue and can safely scale your marketing budget back to 5-10% of gross revenue.
I'm somewhere in between.
Maybe you have a single marketing person on your team and/or an agency you work with. Your foundation is a little more solid, but you are still working on building your efforts.
It makes sense to continue investing 10-15% of gross revenue on marketing if you're in this growth stage. Since you already have a solid foundation, each investment you make will help take you that much further.
Where should I start?
There's a lot to do when you're getting started with your organization's marketing. The worst thing you can do is try to do everything. Focus on the activities that will produce results and really nail those efforts. As you and your team grow, you can invest in more and more strategic marketing initiatives.
Branding ($50-10,000+)
Branding is the number one thing I see startups get fixated on (distracted by) when they're first getting started. You need a cool name and a fancy logo, but before you know it, you've spent $5,000 on branding and haven't even solidified what you're selling.
Especially when you're just starting out, this isn't a priority line item. Hire a low-cost freelance designer from Fiverr or Upwork to get a quick and dirty logo to start out.
Website ($5-$100,000+)
Websites are, and always will be, a beast. They're often an indefinite cycle of edits and improvements. Thus, when you're first getting started, don't get obsessed with perfection—you won't achieve it.
Instead, decide on your minimum viable product (MVP) and go from there. What information does your audience need to see on your website? There are a multitude of free and inexpensive resources you can utilize to get started.
Get your MVP pages to 85% satisfaction and roll them out. Then, go back and update what you can as you're able. Continue to upgrade these pages and your site in general as it makes sense to do so, but it shouldn't be a priority early in your organization's journey. Focus on activities that will bring in leads and customers.
When you're more established, it will likely make sense to work with a professional firm to do a full website overhaul, but this isn't something you should worry about early on in your organization's existence.
Social ($0-$5,000)
It's easy to get way overwhelmed by social. There are so many platforms, with different best practices and strategies. The best way to master all the social media platforms is to not worry about all of them!
Think about your buyer personas and the platforms they spend their time on. Start by narrowing it down to only platforms your audience is on, then you can par it down further to the top few you really want to focus on.
Take those top two or three and crush it. You can use tools like Buffer, Hootsuite or HubSpot to schedule posts so that you only need to put the effort in upfront.
Looking to get started on social media? This kit has all the resources you need to get started.
Lead generation (Varies widely)
Lead generation doesn't need to be complicated—and this should be a top focus for cash-strapped startups. You need revenue, which means sales and customers, which starts with leads. When you're getting started, you can do this at a very low cost. Manually develop a top prospect list, "stalk" them yourself on social media to connect and build relationships, share valuable insights and get some early users.
As your budget expands, you can start introducing Google and social ads and other strategies to scale your lead gen efforts. These give you the opportunity to reach a large audience who may not be exposed to your brand otherwise.
There are stages to marketing just as there are stages to company growth. Depending on where you're at in your startup journey, you should invest at different levels.
Hope this was helpful—if you have additional questions on your B2B SaaS marketing budget, feel free to reach out to our Milwaukee marketing and sales agency. We know marketing can be a big investment for SaaS startups, and we're happy to talk you through it!