What I Learned After Posting 218 B2B Inbound Marketing Quora Answers in a Year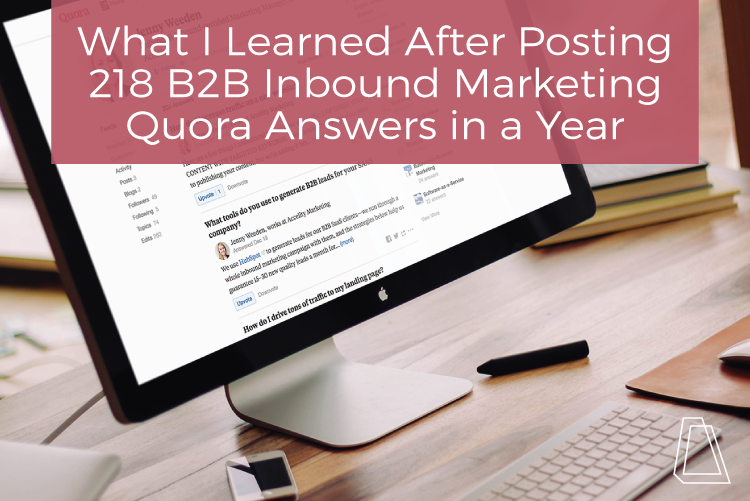 If you're not familiar with Quora, it's—at a high level—a question and answer site. We've found internally that Quora is a great platform for driving B2B inbound marketing leads. (Learn more on how you can incorporate Quora into your inbound strategy here.) As the marketing manager at Accelity, I get to test out many new platforms and strategies, and this year, Quora was one of them.
Here are my findings after posting 218 times on the site, and some best practices you can take to your business.
1. Answer audience-specific questions
It's commonly known in content marketing circles that creating generic content doesn't appeal to anyone. This means the content you create should be specific to your audience. In the same way, we found that almost 70% of the contacts we converted through Quora came from questions and answers that were extremely audience-specific.
For Accelity, that meant/means focusing on:
Small business challenges

Startup growth

B2B lead generation

B2B SaaS marketing and sales questions
...among other things.
With that in mind, here's a tip for you: Think about your audience and your buyer personas. What types of questions do they ask you? Brainstorm those questions, and search for similar types of questions on Quora. If you don't have buyer personas, check out this video for quick tips to get them started.
2. Give a different opinion
Some Quora questions have no answers on them yet. However, many do. When I came across questions with a lot of answers, I reviewed the answers given, and tried to give a different opinion, or take, on the question. Doing this helped my responses stand out because they weren't repetitive with what was already being provided, and they made me look credible for taking the time to think about the question at hand in a different way.
In many of these instances, my answer was "upvoted" (a way for other Quora members to tell you they liked how you responded, so your post gets more views), and in some instances, people even commented back to me because they were engaged in what I was saying.
3. Look who's posting and/or answering the question
I learned this lesson early on—Quora is a global community, which is wonderful. However, Accelity works with companies in the U.S., so we started seeing a lot of traffic from unqualified leads from other countries.
While you can't avoid this completely (and though it is great when your content is valuable at a global level), make sure to take time and look at who is asking the question; if you can't find this information, look at the other people responding to the question. If they are in your market territory, great! If not, just know you may get a mix of qualified and unqualified prospect conversions.
On the same note, you should also find out in what industry the question poster is. This will help you avoid prospects who aren't a fit for your product or service (and see number 1 in this blog to further avoid this issue).
4. Keep it simple by reusing answers
You'll save a lot of time by reusing answers for similar questions. I am not telling you to take a previous answer you posted verbatim and share it on another question. However, I took many of my answers, copy and pasted them in a new question, and then tweaked the answer so it still had valuable information, but wasn't word for word like the previous answer.
5. Short answers aren't bad answers
Many Quora experts write very long answers—and that's great. It can definitely help their answers get found in Google search results, and many long answers are the top upvoted answers to a question.
With that in mind, I found that short answers get a lot of play, too. In fact, my shorter answers drove a lot of traffic because people love skimming and have short attention spans.
While you will want to write a mix of long and short answers, consider opportunities where short answers will benefit you. Here are a couple examples below: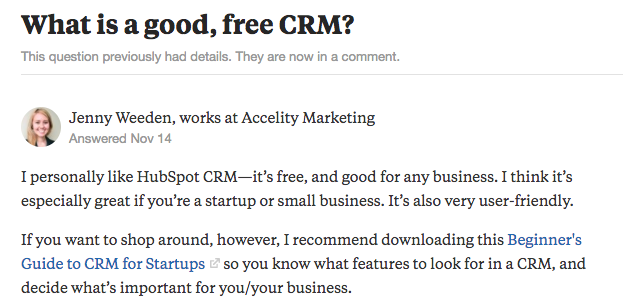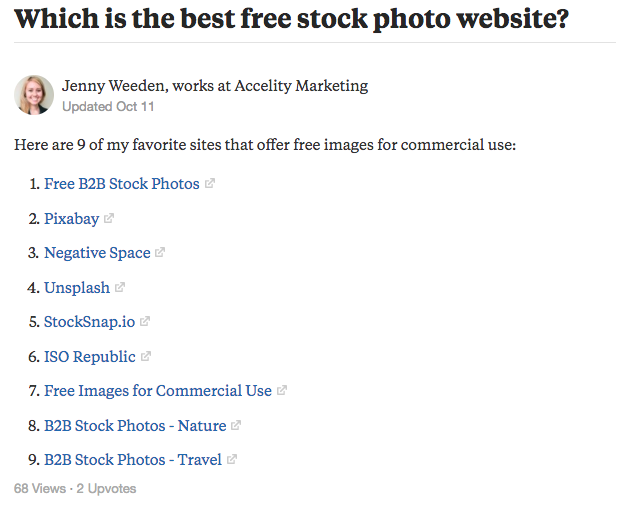 6. Share content in multiple places on your post
This is probably the most important part of using Quora, and how I saw the most success converting leads. Our goal on Quora was to drive traffic and conversions by increasing backlinks to our site (a backlink is a link on another site, that directs to yours).
Answering a question is great because it builds credibility and helps the community—but linking back to your site provides further insight to the reader, and ultimately drives more leads to your business.
Here's a high-level breakdown of my overall posting strategy (including information on linking):
Find questions that our content (blogs, videos, offers, etc.) already answer.

Answer each question by using a mix of my own knowledge, as well as information from our content.

Make copy skimmable and easy to understand.

Add links to our blogs, videos and offers throughout each post when it makes sense. As a best practice, in most cases I added 1 link per every 50-100 words. That means a very short answer should only have 1 link.

As a follow-up to #4, add a call to action at the end of the answer to drive traffic to a downloadable offer.
Here's a good example of what this looked like in practice: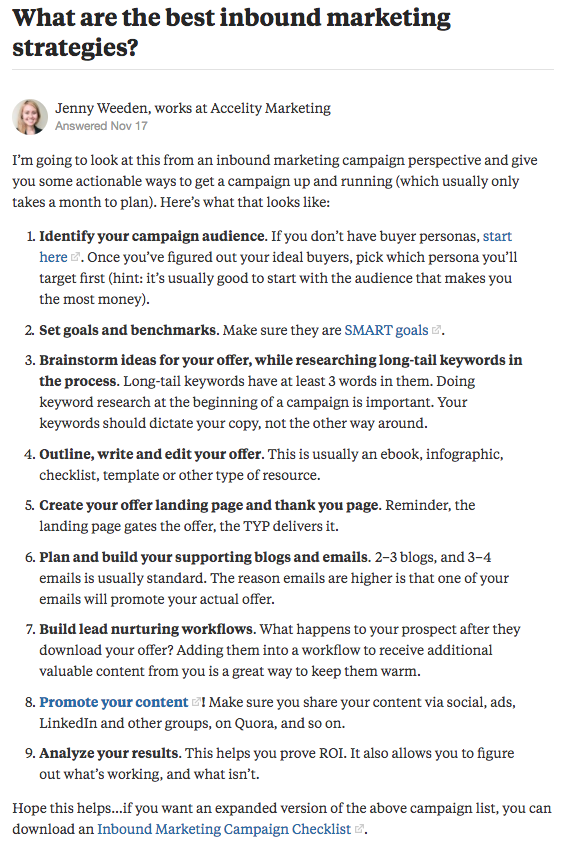 What does this all mean? Let's break down the numbers.
Let's run a hypothetical here. After I got into the swing of things, and started repurposing answers, I did the calculations, and it took me 14.8 minutes to write a Quora post each time I did it. I spent around 54 hours total in 2017 answering questions on Quora.
So let's say it takes you 15 minutes to write an answer, on average, and you write 218 posts.
That's 54.5 hours. Just over an hour and a half of Quora posting time each week.
And let's just say for this scenario that your hourly time is worth $25/hour. That's 1362.5 total company dollars spent posting on Quora.
If you have similar results as we did (44 quality contacts, not including disqualified contacts). That's about $31/quality contact.
For most B2B companies, closing one of those contacts will allow you to make your money back, and profit, within the first month.
Cha-ching.
Do you have other best practices you've used on Quora? Any follow-up questions for me on our strategy? Let me know in the comments below.