What I Learned After Posting B2B Content on LinkedIn 21 Days in a Row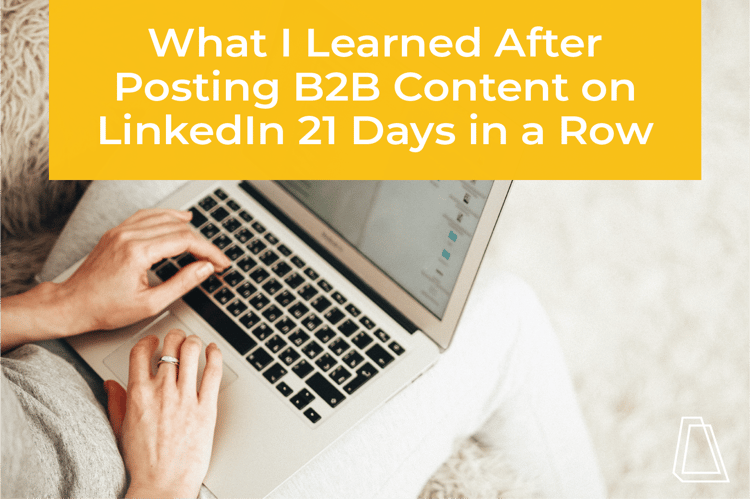 At the beginning of March, our CEO, Jackie, along with three of the Misfits, announced their #21Challenge. The purpose of the challenge is to create content every day on LinkedIn for 21 days straight. These posts didn't all need to be video - they could be text posts, images, anything.
At the beginning of the quarter, Jackie told the whole team we needed to make six LinkedIn videos. Having recently completed that challenge when this arose, I decided this was the perfect way to keep pushing myself. I don't think I really considered how much content I would have to make.
Regardless, I completed the challenge without missing a day and learned a TON!
I did a brief digest in my final video, but wanted to dive in a little deeper on what I learned about B2B marketing as a whole on LinkedIn as a result of the challenge.
It wasn't as painful as I thought.
Starting with a personal lesson, I was pretty terrified to start making videos on LinkedIn back in December. I never expected to love making videos and posting on LinkedIn in general as much as I do now.
I found that it was empowering to put myself out there and share my thoughts and experiences with my network. It cost nothing for me to produce the content I shared and it really wasn't that time-consuming. I found myself doing much of my ideation during my commutes (I drive about an hour each way). Shooting and writing copy usually took less than half an hour total.
I definitely spent the most amount of time interacting with my network either by responding to comments on my post or commenting on other people's posts, which brings me to…
Give before you get.
If you're looking to drive engagement on LinkedIn to your personal account or a business page, you should be interacting with other accounts. This is a good way to build a repertoire with other individuals which will make them more likely to interact on your posts.
Additionally, I have found that liking and commenting on a few posts before sharing a new one helps my post to show up more in people's feed!
Focus on educating vs. selling.
When we first get on social media it can be super tempting to go straight into discussing why working with you is the best, but, same as in-person, this isn't a good practice. It's crucial to instead create content that's beneficial to your audience. This will allow you to continue to build a relationship with your network, then when a need arises, you'll likely be the first person they think of.
Be genuine.
What usually sets LinkedIn apart from other social media channels is how buttoned-up it is. There is definitely an air of professionalism that comes with LinkedIn, which is typically the reason people list as to why they're not putting content out on LinkedIn.
You don't need to be a perfect robot on LinkedIn. It actually helps if you're not. I found that it is key to break down those barriers and show off your personality. This helps you drive deeper connections with people who truly relate to you.
Throughout all my posts, I was super candid and transparent about everything. I didn't really edit any of my videos, save for trimming the beginning and end. This helped me connect with others and I think it definitely helps me come off as more approachable than I would otherwise.
Be consistent.
As with any social media platform, there's power in consistency. Posting regularly not only helps to keep you top of mind for your network, but LinkedIn's algorithm will also reward you. The same goes for interacting with others. Make sure you're regularly signing on to like, comment and reply to messages.
Be bold.
Posting the same content as everyone else won't help you drive engagement. You don't need to be aggressive or particularly controversial, but you can be bold by asking thought-provoking questions or sharing innovative ideas.
I tried to apply this in a variety of ways, but I think the one that stands out the most is this video of me preparing for a different video. It's literally 20 seconds of me eating blueberries and centering myself, but people were able to relate to it and I was able to have a handful of real conversations with other professionals.
There is increasing opportunity for B2B companies and professionals on LinkedIn. It makes sense to invest now while you still have access to such a large organic reach. If you're ready to dive in but aren't quite sure where to start, check out this ebook we put together to help with all things LinkedIn.