Why Hubspot for Startups is a No-brainer For Your New Business
---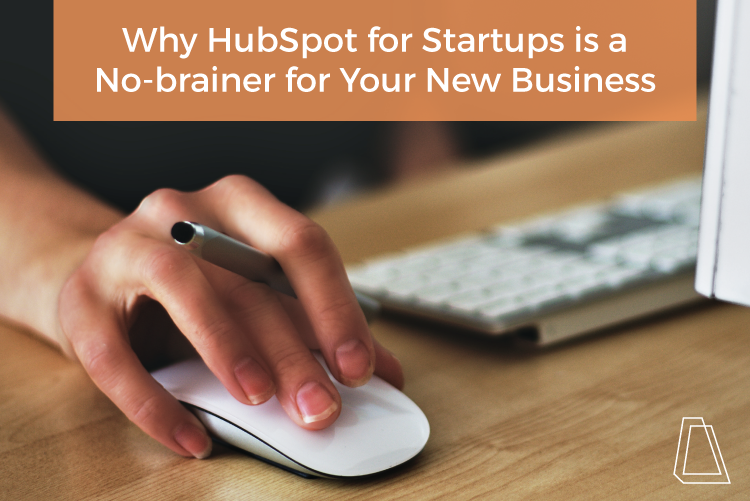 HubSpot for Startups is a great way to acquire a comprehensive marketing, sales, and/or CRM system in a way that is price adaptive to your startup budget! HubSpot gives you the education and support of the full priced HubSpot system, but with the added understanding that your eligible startup needs a system like this to grow and prosper without the stress of a huge bill.
To be eligible for this option your startup has to be affiliated with another organization within HubSpot's network. But don't worry, their network contains over 800+ organizations in 50 countries! You can find out if they're on HubSpot's website by inputting your funding level and searching the program title. And if the organization is not in their network you can invite them to connect with HubSpot to give you that access to an affordable system.

Seed-Stage:
There are two levels of discount that your startup can apply for: Seed-Stage or Series A. HubSpot makes it easy to apply by inputting some information about your company, making sure that you're "a seed-stage startup affiliated with one of their global startup partner network."
Here's information from HubSpot on what you get with a seed-stage version of the tool, and some of the broad requirements to get the application for your business. You can get up to 90% off of the pro-version price which can save your company thousands of dollars in the long run while you use HubSpot to grow and increase your profits!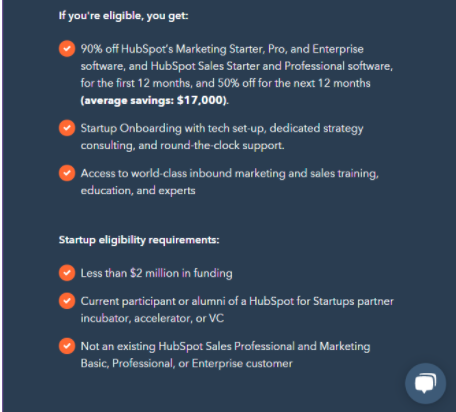 Series A:
If you have more than $2 million in funding you can apply for a Series A version of HubSpot; you get a little less of a discount, but with a larger amount of funding, HubSpot assumes you're able to pay more for their system. To make things easier, here's another screenshot of what's included with Series A and some general requirements. Your president or founder should have most of this information on hand for you to apply and start optimizing your startup's inbound marketing and sales strategy!
Investing in a full-blown system like HubSpot is a big decision for your startup. If you're not ready to commit quite yet, HubSpot can set up a free group demo version for you to try out! HubSpot offers a free version of all of their software, but it does limit what you can do with your marketing and reporting.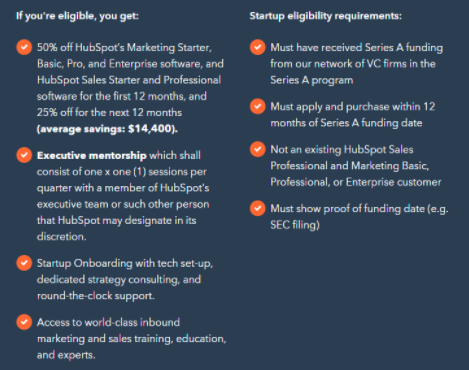 Why HubSpot in the first place?
Now that you know how affordable implementing HubSpot for Startups really is, the benefits of using the system are vast and wide-reaching into multiple areas of your business! Accelity and the B2B SaaS startups we work with love HubSpot's data-tracking abilities, ease of use and great support team (though it's not without limitations—more on that here). Here are a few things you'll find in both HubSpot startup versions:
HubSpot CRM

Startup onboarding (how to set up and customize your system)

Dedicated sales and marketing strategy consulting

24/7 technical support

Access to exclusive HubSpot Academy training and education

Access to a community of fellow founders and experts
The best thing about HubSpot for Startups is they work with you to develop your marketing and sales skills to use the software to the best of its ability. Their certification program comes with the tool to help make you an expert in HubSpot. The tool is becoming more and more customizable to fit your needs and wants to make sure you are optimizing your resources, content, email marketing strategy and more to grow your business!

You can talk to a sales rep one on one to apply and agree on the best price for your company—and with all the benefits you get from HubSpot, why wouldn't you? If you want to give HubSpot a test-spin, but aren't sure where to start, watch the video below, or go to our HubSpot trial page.