Why Pillar Pages are the Secret Weapon to Driving B2B Website Traffic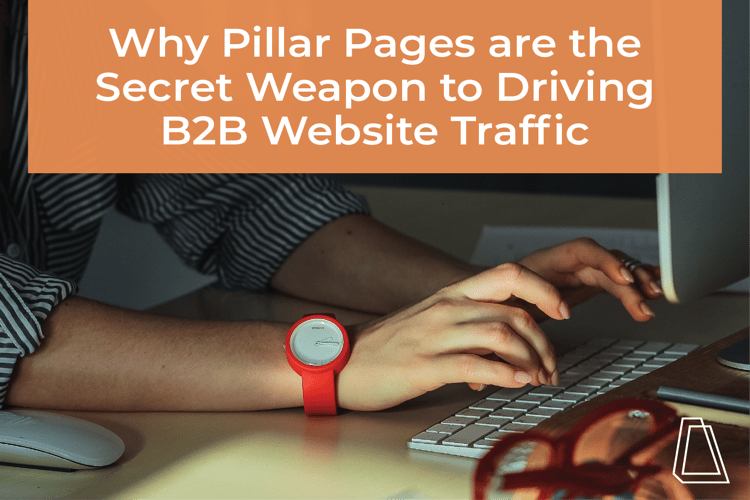 Host: "The secret sauce to driving traffic to your website"
Contestant: "What is a pillar page?"
A pillar page in an ungated piece of content...yes, you heard me correctly—an ungated piece of content—related to a specific topic that customers can access on your website without filling out a form. You may be asking, "but KaDi, how do we convert those visitors into leads?" Well, the proven success behind a pillar page is that you show value by providing free content that visitors want to take with them and access on the go.
In this day and age, people want to access information quickly and efficiently. Once they find your pillar page loaded with valuable content, they will not hesitate to fill out the form on the page that allows them to download the content. Check out Accelity's pillar page on B2B SaaS marketing, if you aren't compelled to download the offer after reading, then we need to talk.
What is the draw to creating a pillar page? The great thing about a pillar page is the fact that it doesn't have to be as detailed as a typical blog. Although it is a one-pager that lives on your website, you can leverage existing content related to your chosen topic and backlink within the page itself.
SEO starts with YOU
What good is having valuable content if people can't find it through internet searches? It's not. The reason pillar pages may be the secret weapon your company has been searching for is not only do pillar pages focus on providing your audience with an abundance of information related to a topic cluster in a single page, but when done correctly they also increase your SEO ranking.
Before you can begin ranking in search queries, you must first gather all existing content related to the topic. It's okay if you don't have a ton of content related to the topic you want to start ranking for. The great thing about pillar pages is they do not have to be 100% complete in order to be published onto your site. Remember, you can always create and add content to your page as you go.
Another way to ensure your SEO is top-notch is by creating original visuals on your page and including the keyword or topic in the alt text description. Sometimes, topics can be hard to understand. By incorporating graphics, images, videos, etc., you can aid in the comprehension of a topic, making a world of difference, as well as adding a bit of color and visual appeal to the page.
It's not what you know, but who you know
No one has gotten anywhere by doing everything on their own. Even if you take all the necessary steps to create a high ranking pillar page, there is one thing that can always make it better—link building. Link building relates to securing relationships with sites ranking high in search authority and having them include links from their site to yours. As you build your domain authority and ranking for specific keywords and topics, it's important to also begin link building.
Link building doesn't happen overnight, it may take a while for your content to reach the attention of someone from high authority sites right away. This means you have to actively build those relationships. Here are a few ways you can be proactive in link building:
Seek product reviews
Reach out to pubs/journalists
Create a list of sites/pubs you respect and determine how you can help
Link to other sites within your content


Ready. Set. Go (Create).
Creating pillar pages isn't for the faint of heart. It takes a lot of strategic thinking and preparation to successfully execute. But if you're tired of doing the same old things that bring in the same old results, then it might time for a change. Next time you're thinking of new approaches to drive traffic to your site, be sure to include pillar pages in the mix.