Why Your B2B Startup Needs to Produce Video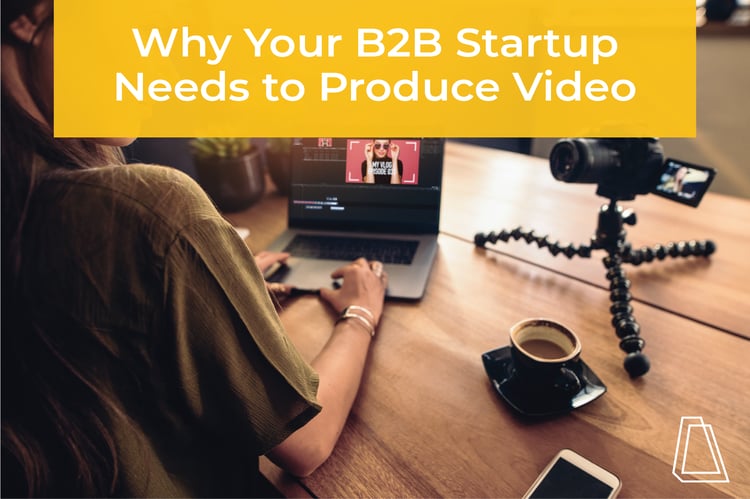 In 2019, it's hard to scroll through any social media feed without being bombarded by videos. Whether it's a recipe video on Instagram or your niece's Christmas concert on Facebook, they're everywhere. Are videos on social media just for being social or is there a business benefit to investing in this medium?
Video by the Numbers
Renderforest has found that 100 million hours of video are watched each day on Facebook. That's over 11,000 years worth of video, every single day. They aren't all just cute puppy videos, either. Marketers are seeing results that make an undeniable case for investing in video. Aberdeen Group found that video marketers get 66% more qualified leads per year. Additionally, Wyzol found that 83% of marketers using video feel it gives them a good return on investment.
What about prospects? They love video just as much. HubSpot found that 72% of people would rather use video to learn about a product or service and 81% of people have been convinced to make a purchase by watching a brand's video.
How to Incorporate Video in Your B2B Marketing Strategy
From product videos to event live streams, there is no shortage of ways to start incorporating video into your organization's marketing. The key is to do it strategically to maximize your return and get the most out of your resources.
Instead of sporadically tossing videos on your social media channels and website, consider how they can be a part of a larger strategy. At Accelity, we coordinate our videos with other pieces of content, like creating a video to accompany a blog. We also create educational videos to tie into larger campaigns and grow our content library. Overall, our videos give our audience an opportunity to see deeper into Accelity and familiarize themselves with our team.
Quentin Allums, CEO of Urban Misfit Ventures, shares, "I took a trip to Portland a few weeks back. We had a meeting with a CMO of a SaaS company that previously worked at Adidas, Nike, and others. One of the first things she said was that she felt that she knew us already and because she knew us, she wanted to know more about our business. That's why it's so important. Video humanizes your brand. It doesn't have to be perfect, it just has to get the right message across."
Look at how you can start incorporating more videos into what you're already doing. Do you host events regularly? Start doing webinars as well. Regularly sharing educational blogs on Facebook? Make a video discussing the topic instead. Diving into video doesn't have to mean an entire re-do of your organization's marketing strategy.
It Doesn't Need to Cost an Arm and a Leg
Whenever I talk to someone who is hesitant about getting started with video for their marketing, their first concern is always how much it's going to cost, and I get it. Video can definitely be expensive: renting equipment and paying people to script, shoot and edit videos doesn't come cheap. Thankfully, these investments aren't all necessary.
You can create high-quality videos with inexpensive tools. Today, we're walking around with a high-quality camera in our pocket: our smartphones. With the right lighting and an inexpensive LAV mic, you can shoot excellent videos just from your phone. You don't need a fancy set either. With good natural lighting, your office can make the perfect backdrop for your next video—and if you have a Mac you can do all the editing yourself with iMovie.
Once you've started seeing a return from your videos and are ready to amp up your production quality, feel free to start investing in better equipment and even paying video professionals to help out. In the meantime, there's plenty you can do as a startup with a minimal budget.
Startups Killing the Game
These are some of my favorite startups with stellar video strategies:
The Commons. The Commons is a Wisconsin-based program blending student startup ventures with corporate innovation, layering on over 500 mentoring professionals to give students a truly unique, real-world experience.
While their Program Director, Joe Poeschl, is starting to make waves with video on LinkedIn, The Commons has been killing it at video for a while. Particularly on Instagram, The Commons shares great videos showing behind the scenes at their events and giving an inside look at what students are doing in Skills Accelerator programs.
Urban Misfit Ventures. MKE Misfits is an events company–providing a space to help creators connect with other like-minded individuals by hosting global events.
I don't think I could talk about video marketing without mentioning these guys. They absolutely crush it at producing videos, which fits perfectly into their marketing strategy. Get inspired by their videos on LinkedIn.
IKONICK. IKONICK is a Los Angeles-based online art gallery supplying pieces embodying pop culture.
IKONICK is a B2C company, but they do it perfectly. They are creating content that is valuable to their target audience and everything is aligned with their brand. Behind The Hustle is their YouTube-based web series introducing the origin of IKONICK and sharing behind-the-scenes insight on what a day in the life of a startup looks like.
If you aren't producing video content in 2019, you're behind the curve. 87% of businesses today use video as a marketing tool. Marketers are seeing positive results and feel they receive an excellent ROI by investing in video. If you're ready to get started but aren't sure how, check out our ebook to learn strategies for incorporating video into your B2B marketing strategy on a startup budget.