12 Inspiring TED Talks that Every Entrepreneur Should Watch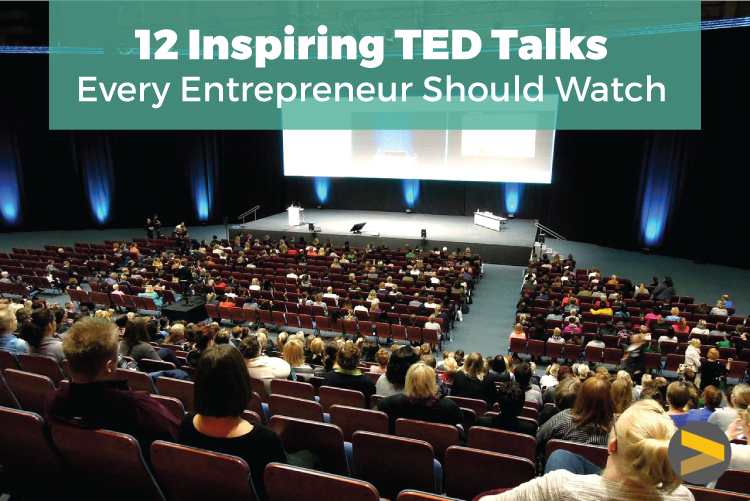 TED talks inspire us to be brave, to understand every global citizen and to view the world differently in 18 minutes or less. There are talks on everything from life lessons from big cats to "mathemagic." TED has so many quality speakers, and many of those speakers include people who to inspire and motivate entrepreneurs. I've compiled a list of my favorites below. Enjoy!

---
Bill Gross is the founder of numerous startups. He decided to study hundreds of startups to learn why they succeed (and why they fail). He looked at the five key factors you need for startup success, and found surprising results. Watch the video to learn how to make your startup succeed!
Video length: 6:40
Considering pitching your startup to a venture capitalist? Learn best practices from David Rose, a businessman who has earned tens of millions of dollars in funding and supervised the investments of tens of millions of dollars as well. Rose discusses how VCs are investing in YOU, the entrepreneur, and the 10 things you need to show VCs about your personality during a pitch.
Video length: 14:39
This clip is an inspiring look at how female entrepreneurs are changing the business landscape all over the world, despite being overlooked and turned down time and again for larger business loans.
Video length: 13:16
When people say, "You can't do it all," Maya Penn proves them wrong. Penn (now 16 years old) is a young entrepreneur and a motivating force for the next wave of startups and entrepreneurs to come.
Video length: 7:12
Entrepreneurs are always looking for ways to get more out of less. Navi Radjou talks about how to create great value with little cost using your greatest resource—human ingenuity.
Video length: 16:25
Do you know any children who are failing in school? They might be a part of the next generation of entrepreneurs. Instead of crushing the dreams of the next generation before they can even be fully formed, learn how we can raise kids to be entrepreneurs.
Video length: 21:24
Are you launching a startup? Knut Haanaes explains the two main reasons companies fail, and how to balance two activities—exploration and exploitation—to stay successful.
Video length: 10:38
Drew Curtis, an entrepreneur who took his small business to court after being served with a lawsuit by a patent troll, shares how entrepreneurs and inventors can effectively fight patent lawsuits—saving you time and (potentially) millions of dollars.
Video length: 6:40
If you're looking for an inspiring TED Talk and entertaining entrepreneurial story, this is it. Ludwick Marishane started looking for a way to take a bath without having to get into the tub, but ended up finding a solution for countries who don't have access to water.
Video Length: 5:06
When entrepreneurs hire their internal team, they might be looking for "qualified" individuals. But what makes a person qualified? Many would say experience and what's on a person's resume. This video shares an important lesson if you're looking to hire top talent at your startup—don't judge a person purely on their resume, because you might be missing out on the best hire.
Video length: 10:31
If you want your dreams to come to fruition, watch Bel Pesce's talk as a reverse lesson in learning what not to do when attempting to make your business a success.
Video length: 6:11
This is a great video for passionate entrepreneurs who are on the fence about taking their businesses to the next level. Larry Smith explains that it's okay to fail when finding your passion and living it. Smith also discusses what is holding you back from having a great career, and why playing it safe isn't safe.
Video length: 15:15
Which TED talks motivate and inspire you as an entrepreneur? Let us know in the comments below!