5 Social Media Marketing Trends for B2B Small Business
---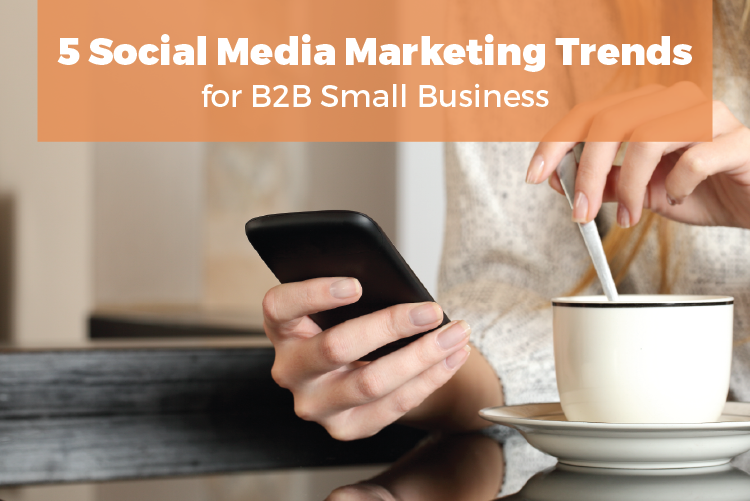 Getting started with social media as a B2B small business is half the battle, but how do you know if the strategy you've implemented is effective? A good way to benchmark your social activity is to compare your efforts with other B2B small businesses and watch their social media marketing trends. This blog shares a few top trends that analysts are observing in B2B small business social media activity.
---
1. Facebook is still king...
It's no surprise that Facebook is the social media site of choice for small B2B companies. While the number of Facebook users is shrinking overall, it is still the top-used social media site by a landslide (Twitter is second), with over a billion active users a month.
Aside from its large user audience, many small businesses that don't have immediate or available funding for a website use Facebook as a website substitute. It's free to set up a business page and all of the basic information typically found on a company website can also be found on Facebook business pages (i.e. phone number, business hours, about the company information, address, etc.).
For example, my mother runs an essential oil business, but doesn't have the time or funding to dedicate to a new website. For her, creating a Facebook page is an easy alternative that allows her to share information from her business on her personal Facebook page, providing more business exposure to her network of friends.
2. ...But networking on LinkedIn has piqued the interest of many B2B marketers.
Though Facebook is still used by B2B small businesses more than any other platform, the social site that B2B companies look to for networking purposes is LinkedIn. The audience on LinkedIn for small B2B companies is very different from the audience on Facebook. Instead of trying to attract consumers to their business, B2B companies use LinkedIn as a search engine for human capital, prospective customers and other resources. Many businesses look for and find marketers, employees, partners and mentors on LinkedIn, and this trend will continue to grow.
3. Social media isn't an afterthought for B2B small business.
For B2B small businesses, social media is a priority, not something done during downtime. B2B companies understand the value of social media, and 25% of B2B small business are spending 6-10 hours a week posting and interacting. This number has increased over time, and will continue to do so, as more B2B small businesses see the value of social platforms.
Beyond using social sites to engage and network, social media is one of the top channels for sharing content. In fact, 87% of B2B marketers use social media to distribute content. If you create content, such as blogs or ebooks, but don't have the time or expertise for email marketing, social media platforms are great for sharing your content to a mass audience.
4. For small B2B companies, social media is about being seen.
The top goal for B2B small businesses when on social media isn't necessarily to sell something; it's about having a presence and building company awareness through exposure. While this isn't an easy metric to measure, many B2B small business owners believe it's important. They are looking to get in front of a wider audience. This is especially crucial because these businesses may find it difficult to rank in search engine results (SERs), especially if they are one-person companies.
5. Leads from social media come at a low cost for small businesses.
How are you generating leads? Do you rely on the more the traditional route of print ads, or cold calling? There are many different ways to generate leads, but compared to traditional methods, social media is making it more affordable than ever to earn new leads. It can even save you up to 80% of your lead generation costs.
Of course, simply having a presence on sites like Twitter, Facebook, LinkedIn or Instagram can generate leads, but adding paid advertisements can give your lead generation efforts a boost. Creating ads on these sites is a very cost effective way to:
Increase site traffic

Increase number of leads

Increase overall company visibility and value

Increase blog views and ebook or other content downloads
The list goes on! Even spending $50 a week on ads will bring B2B small businesses powerful results.

Are you looking for ways to get started on social media and implement powerful strategies? Check out our guide to social media! Are there any other social strategies that work for your business? If so, please share in the comments below.