Meet Jenny—Sugar, Spice and Everything Nice... Unless Zombies Rule the World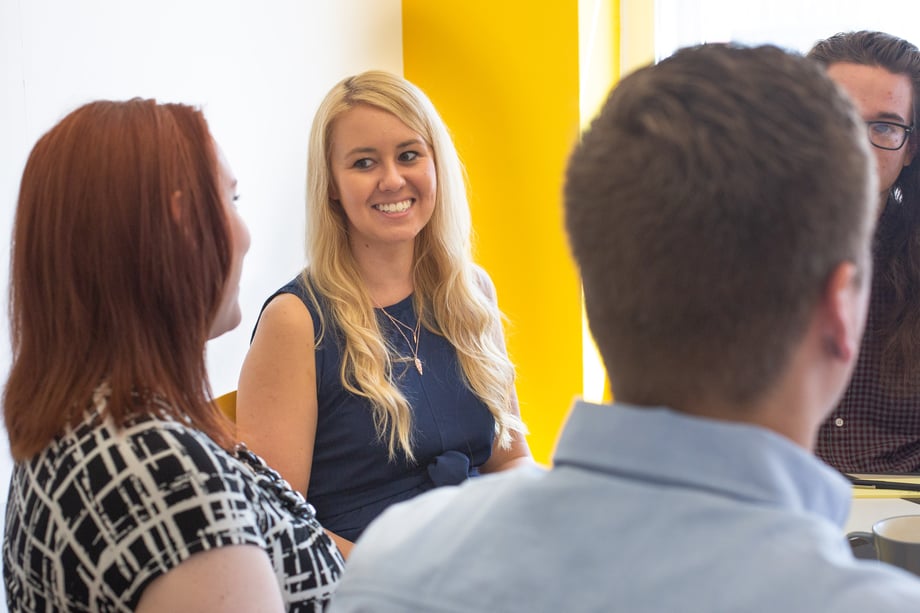 Shazam and abracadabra! Did you know we here at Accelity Marketing have real wizards working behind the scenes? While we don't necessarily practice magic, we can make content appear out of what seems like thin air. In this blog series, we will feature one of our talented team members so you can see what we are all about. This month's star is Jenny Weeden!
---
What is the coolest thing about working at Accelity?
The people—100%. We work hard and collaborate with one another, we care deeply about each other, and that makes coming in every. single. day. so fun.

A zombie breakout just happened in Milwaukee, what is your plan to survive?
Let's be honest, I'm probably dead already. BUT, if I somehow get through the initial chaos, I'm going up north (aka, "up nort") to the deep woods of Wisconsin. I think fewer people are there (and hopefully that would still be the case) so I wouldn't be a part of the buffet of people in cities.
Ideally, I'd travel in a small group of people (no more than 3-4, including me). I'd need to procure some type of weaponry (or maybe a lighter and some hairspray even to roast up those zombies), so I would start with a shovel or other pole-like object with a sharp end until I have access to guns and ammo, or at least archery equipment. Maybe I'd find a Fleet Farm, Walmart, Dunham's, or some other type of sporting store if it hasn't been looted.
Food will be a concern as well as water, so I'd definitely be looting a ton of places (sorry, capitalism, this is zombie country). You almost need to worry about being killed off by other humans as much as zombies, so #noregrets if it came to offing some people if they tried to kill me, I guess I would. AGAIN, I want to reiterate that I'm likely dead/a zombie anyway, so the fact that I'm saying this doesn't carry a lot of weight.
But additionally, I'd like to note that since I have access to a car, I'd probably drive as far north as possible without stopping until I got to a gas station that looked pretty abandoned/safe. I would hit people and the undead with my car if needed, but I'm also an awful driver, so that's not terribly out of character.
What is your hometown most known for?
Well, Sheboygan is known to many as a questionable place (re: That's so Sheboygan; general news), but it's really a great city known for being the brat capital of the world.
Sheboygan has also become somewhat of a surfing capital—called the Malibu of the Midwest, it hosted the largest lake surfing competition in the world for almost 25 years. Additionally, it is in Sheboygan County (Kohler) that the word "bubbler" was born.
It's a beautiful city that I'm proud of, and I'd encourage anyone to check it out!
Where would you like to see Accelity in 3 years?
3x bigger than we are now, with a team as awesome as it is already (if not more so, though it would be hard to top), and still growing.
Where is your favorite spot in Milwaukee?
I cannot choose just one. I just can't. Generally, I love the Downtown, East Side, Third Ward, Walker's Point, and Bay View neighborhoods. Some of my favorite restaurants are Goodkind, Rumpus Room, Honeypie and Comet Cafe.
There are so many good chill bars to check out, like:
Monica's

Tonic Tavern

Finks

Camp

Sugar Maple

Why Not II

Burnheart's

Fuel Cafe
We have so many cool breweries like Good City, Broken Bat, Third Space, and more. The festivals are amazing—my favorite is Bastille Days, but there's a festival basically every single weekend in summer.
Okay… now I'm just sounding like a tour guide… but seriously this city is amazing and you're clearly missing out on something if you think otherwise.
If you weren't in marketing what would your second career choice be?
Event planning—prior to working at Accelity I was looking into event planning careers, and planned many events both professionally and for fun (and still do!). I think it's because I'm super detail-oriented, but can still see the vision of the event as a whole… also, events are a good time.
What is an attainable life goal you have for yourself in 10 years?
I'd love (and with hard work and focus will have):
A healthy, happy, financially secure family

A nice, but not too extravagant (yet) home

My own boat… probably a pontoon

To have gone to Europe 5 more times (I plan to go bi-annually)