5 Social Plugins Everyone Should Use on WordPress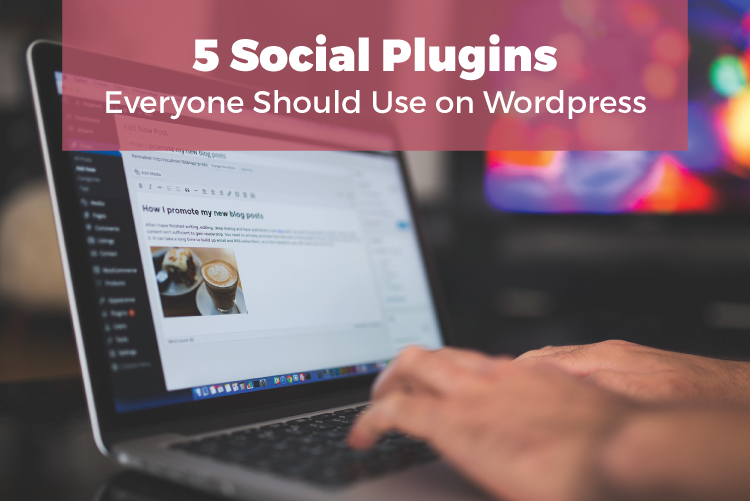 Having a website—important. Having a social media presence—vital. Connecting the two is necessary, for several reasons. SEO is impacted by social "real estate", so to speak. If you are one of the millions of people/businesses using WordPress, you're lucky to have at your fingertips numerous Wordpress plugins that are all about connecting your site with your social.
---
1. Shareaholic
We use Shareaholic on our site, to much success. There are many options for adding social media icons to posts and pages, so that it's easier to users to share the content. Personally this is our favorite, though.
This plugin is free, easy to use, and aesthetically pleasing. You can choose placement for the icons, select which icons to use, and decide to include numbers for how many times the post has already been shared on each channel. This way it looks better and more popular to potential viewers.
2. ShareThis
ShareThis is another option for social share icons. One of its main advantages is that it offers 120 social platforms. 120! Personally I can't even come up with that many platforms. So this plugin is certainly comprehensive.
Another advantage is that it comes with built-in analytics. A key piece of social is tracking analytics, so it's nice that you don't even need to leave the page to track visits.
3. Better Click to Tweet
It was a great day when I discovered Better Click to Tweet earlier this spring. It has a great capability where you can set parts of your post to be ready-to-tweet. Meaning, a quote or sentence in your post is highlighted and ready to go. You don't need to copy the phrase to your Twitter account, you can just click the "Tweet" button already built in.
As an added bonus, when the viewer tweets the ready and packaged phrase, it automatically attributes the phrase to you. So it'll tweet the phrase and give you credit.
4. WP-Post Views
I've given you options for sharing your content. Now here's an option to see some data on the backend. You'll want to know how often your posts are being read, so you can determine effective topics and other strategies.
WP-Post Views is the most straightforward plugin I've found for this purpose. It clearly shows the number of views for each post and has excellent customer service if needed.
5. WP Twitter Feeds
Now that you've mastered the ability to share and track particular posts, let's link up the rest of your site. It looks both professional and authoritative to have your Twitter feed stream directly to your site. Of course, this means you need to be active and keep up with your Twitter presence.
WP Twitter Feeds is a widget that doesn't need a mastery of code. You simply download the plugin and adjust settings. You can determine the colors, the number of tweets that appear, and more.
What social plugins have you found success with? Any favorites we didn't mention? Let us know in the comments below!