Top Construction Tech Startups to Watch in 2019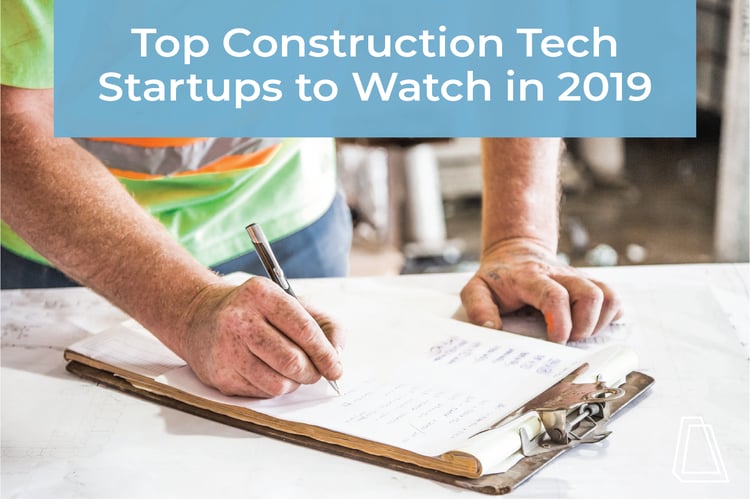 The construction industry has been around since at least 9,000 BC when people first started making bridges from wooden logs. The industry has developed tremendously over the past 11,000 years—yet many challenges exist that have stagnated productivity over the last several decades.
Despite flat productivity and the billions in resulting costs worldwide, construction organizations have been largely hesitant to adopt new technologies and strategies to improve this.
All this makes the construction industry ripe for innovation and technological advancement, and there are countless exciting construction-related startups and technology firms in the market today. Here are a few of the top construction tech startups to watch in 2019.
Too often, talented crafts workers are promoted to a leadership role without having the necessary skills to effectively manage the work and deal with the challenges associated with the position. On a daily basis, these men and women are asked to marshal and manage resources, and meet safety, environmental, quality, productivity and schedule requirements in an extremely dynamic environment. With tremendous responsibility placed on these individuals, their development and support should be a key component of any construction company's risk management plan.
Trestles Construction Solutions was founded in 2017 to meet the demand for the development of frontline supervisors within the construction industry and to provide a simple tool to facilitate effective planning, scheduling and reporting processes. Trestles provides a mobile software application, Trestles Labor Management System (TLMS®), which is designed to allow construction planners and frontline supervisors to "break down" the work into a manageable set of tasks. Trestles also provides a construction frontline supervisor development program which focuses on construction planning and scheduling, labor management and productivity, continuous improvement and effective leadership.
Combined, these empower frontline leaders to run their crews more efficiently, effectively and productively, improving safety and quality measures along the way.
Trade contractors do so much work that needs to be documented and doing so manually is largely inefficient. Enter: eSub. Working to move contractors away from pen and paper, eSub is helping drive increased productivity for contractors.
Most companies are stuck in their old ways, using tools that create silos and inefficiencies within a company. eSub aims to solve this with their wide-sweeping integration capabilities that enable increased efficiency and eliminate the need for additional individuals to do data entry.
eSub's platform is modular and includes project management. Within the platform, construction companies can complete a project from start to finish. All documents can be hosted in the cloud, all emails can be tracked and the mobile app allows foremen and field workers to do this documentation on the job. The eSub platform allows for real-time digital documentation, allowing employees to do better quality work and saving the business money on their bottom line.
When Imajion's founder, Charles, was a kid, his family was in construction. At the time, his father was a project manager and spent his time traveling from job site to job site, leaving little time for him to spend with Charlie. This experience gave Charlie insight as to how multiple projects were coordinated at once, revealing communication as a big barrier in the construction industry.
With Charles's first-hand experience with the impacts of poor communication, Imajion set out to make a change in the industry. Imajion identified that the biggest problem is the construction industry still runs off of email and other inefficient methods of communication. Since the construction site is three-dimensional, they decided to build a communication platform that utilizes mixed-reality so multiple stakeholders can participate in a call, allowing them to see the job site virtually in real-time.
Imajion is the only mixed-reality communication platform in the AEC (Architecture, Engineering, Construction) space and they have reduced travel by 60% for onsite visits for their customers.
In 2019, who has the time to write daily reports by hand? They're tedious and take away valuable time that could be used onsite.
With NoteVault, workers speak their daily reports into the app. Transcribers then convert the audio notes into text pushed to daily reports. Not only does this save time and money, it protects your company against potential disputes and makes it easier for workers whose first language isn't English. Notes can be recorded in their native language and then transcribers translate the notes before they're inputted into daily reports.
In the construction industry, payment issues can be complicated. Contractors and suppliers find themselves dealing with unseen risk and inefficient processes, frequently leading to bad outcomes and slow payments. Fortunately, there is a time-tested solution to the madness...lien rights. Lien rights are the check and balance system designed by the law and the construction industry to create a fair payment environment for all.
zlien is solving the construction issue of slow payment times and poor payment history, by incorporating the complexity of lien rights and other nuanced payment documents into one platform for contractors to manage their payment chain. With a holistic approach and a purpose-driven mentality at the forefront of their culture, zlien is empowering the industry to get what they earn, one contractor at a time.
Did I miss any construction tech companies disrupting the industry? Let me know in the comments.