What is the Best CRM for Startups (and Does my Startup Need a CRM)?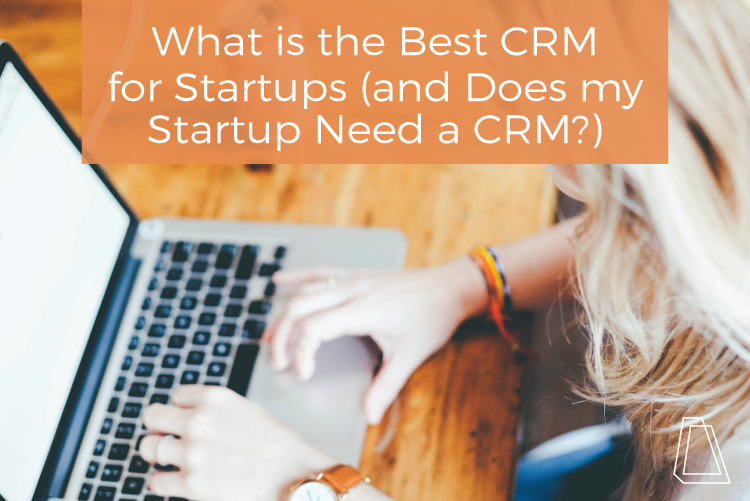 CRM software has helped sales teams manage their contacts and communication for years. However, most salespeople use a fraction of the capabilities of their CRM, and many still hate using it altogether. Additionally, with average starting price points higher than $50/user/month, affordability can be an issue for startups and small businesses.
But there's good news! There are free CRMs and they come in two categories:
Free, but limited (also known as freemium)
Open source
Free, but limited, versions set caps on the amount of free users, contacts, storage, extra features or some combination thereof. Open source offers an unlimited, fully functional CRM to users. The caveat is that your company needs a person (or team) who can install and configure the CRM. Because of this, open source CRM companies also offer a preconfigured version and/or installation and support for a price.
Where can you find these free CRMs? I've put together a list for you to review, please note that these are not placed in any particular order.
Insightly offers a great free program and website. Their system is free for two users, 2,500 records, 200 megabytes of storage and two custom fields. The freemium level also includes advanced reporting and 10 emails a day. You can upgrade to the Basic level for $12/user/month,and that gets you 25,000 records and 1 gigabyte of storage.
The feature that really sets Insightly apart from other CRMs is its built-in email marketing system. The freemium level has limited access to the email marketing system, which is usually not a problem. However, when your business expands, Insightly will save you money because you won't need to spend extra on a second system for your email automation.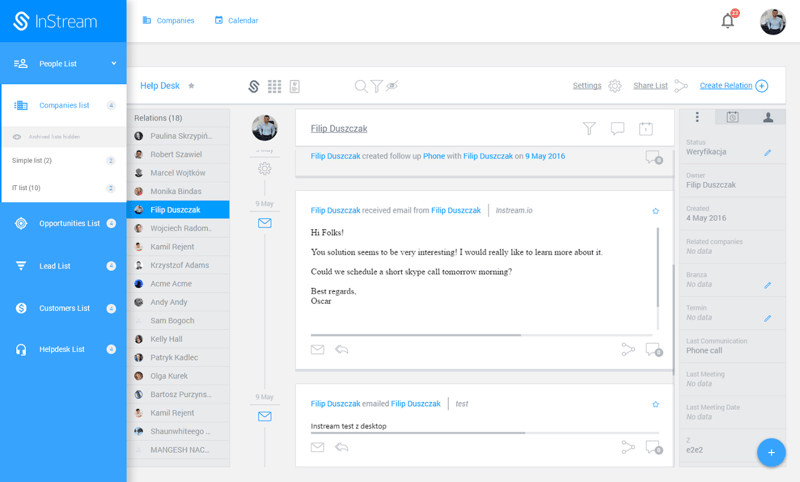 InStream is a fairly new CRM, but it's great for small businesses. It's free for one user and 100 contacts and includes unlimited lists, social integrations and basic integrations. InStream's upgrade price for the Basic plan is $10/user/month.
One thing that makes InStream great for small businesses is its suggestion feature. InStream is able to provide in-app suggestions on how to continue working on a prospect, which is great for a sales team just learning the ropes.
HubSpot CRM is 100% free. They have a few additional features, like click-to-call that you have to pay for, but this is not a product HubSpot is interested in making much money off of. Why? Because HubSpot's main product is their marketing automation solution and this CRM is intended to be a gateway system to using HubSpot's marketing software.
Having said that, what makes Hubspot's CRM worth looking at? For starters, HubSpot's CRM has some amazing data gathering abilities. Traditionally, all the data in a CRM must be entered by a salesperson. That's slowly changing, but HubSpot is especially proactive about this issue. They've got a leg up on the competition because they long ago figured out how to pull data about people from their internet activity and email engagement rates, among other things. All those abilities are put to good use in their CRM; the point being, of course, to make their CRM an intuitive part of their marketing automation software. As a result, HubSpot's data tracking features are head-and-shoulders above the competition.
Capsule is free for up to two users with 10 MB of storage and 250 contacts. To upgrade, it's $12/user/month. With the upgrade comes two gigabytes of storage, 50,000 contacts and integration with such applications as Mailchimp and Freshbooks.
Capsule's customer support system is unique in that they have no phone support. So, if you're used to picking up the phone and speaking with a human when you run into trouble, working with Capsule will be an adjustment. They do have an online troubleshooting section and a series of helpful articles on their blog. But if you run into trouble on a weekend or in the middle of the night, you might be stuck without help until normal business hours.
For a completely free account in Bitrix24 you get 12 users, five GB of storage and the ability to do anything you want with that storage, which is already a sweet deal.
This is how it gets better. The upgrade fee to get unlimited users and 50 gigs of storage is $99, but if you only need a few more users, or maybe just more storage… Bitrix24 hears you! They offer an additional 12 users to the same program for $39/user/month.
If you're looking for an installed CRM, Bitrix24 can do that for you as well (although it's not free). For a one-time fee, you can get their small-business installed CRM (good for 50-500 users).
What makes Bitrix24 really stand out above the crowd is just how feature-rich it is. Check out this abbreviated list of all the things the free version comes with:
Project management features such as: tasking, Gantt charts and time tracking
Built-in email marketing
Telephone features such as: call-recording and dial-out from within the CRM
Sales automation
Sales funnel + reporting
Invoicing
Sales team management
The drawback is that the Bitrix24 aesthetics are a little rough at points.
Do I need a CRM, though?
So now that you know about a few free CRMs, does your small business actually need one? To figure that out, ask yourself these four questions:
Does your team find it difficult to keep all of your contact information organized?
Does your team have trouble keep track of who you have communicated with?
Does your team use spreadsheets to keep track of information, and have issues with that system?
Does your team need a centralized online workspace to gather information and other apps?
If so, your team could benefit from a CRM. Whether you're running a sales team, or a startup, there are plenty of CRMs that can provide you with what you need.
Is there another free CRM that you use and like? Let me know in the comments below! If you're shopping around for a CRM, check out our Beginner's Guide to CRM for Startups.