6 Brands on Social Media That Rock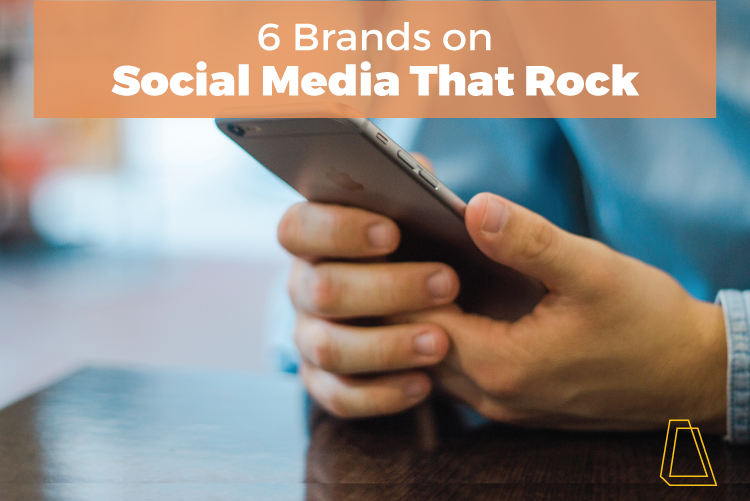 Everywhere we look we find more and more businesses discovering unique ways of attracting attention to their products or services. These businesses create strong social presences, which causes consumers to select their products or services naturally.
Your potential and current customers are looking for businesses with social profiles that are unique, engaging and filled with interesting products or services. Essentially, your target audience is looking for a social channel that understands their needs and can bring value to their lives in some way.
There are a lot of brands that are rocking the social media world—too many to list in one post. Below we've gathered a list of 6 brands that are doing amazing things on social media to inspire you. Check them out, and add your own favorites in the comments below.
Coca-Cola and the Olympics. Genius partnership.
I'm not much of a "Facebooker," but from my research, I found that Coca-Cola is the top performing brand on Facebook. What makes them number one? Well, not only are they one of the biggest soda brands in the world (if not the biggest), but Coca-Cola is also able to maintain their image by co-branding.
Co-branding is a genius way to connect with a larger audience. Coca-Cola understands that their target audience can be a little old lady to an Olympic gold medalist. The results? Over 99 million followers on Facebook! You rock Coca-Cola!

2. TED: "Ideas Worth Spreading"
TED talks that inspire the world!
Who hasn't watched a TED talk? Well, if you haven't, you're missing out on some amazing stories that will inspire you! TED is a nonprofit, nonpartisan foundation that connects with leaders from different backgrounds and cultures and allows them to share their stories. TED's unique way to engage with their target audience is by keeping their speakers as relatable as possible, and they use their Twitter presence to share new talks, inspire and educate their followers.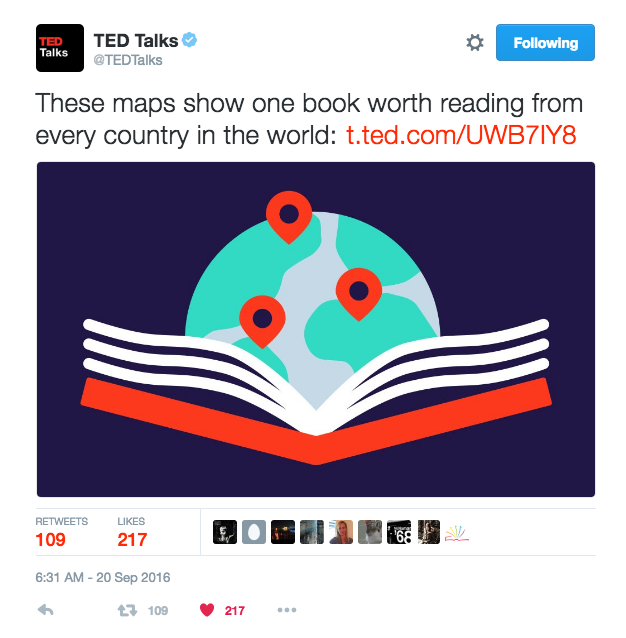 3. Microsoft: "Empowering billions"
Customer and employee focused.
Microsoft is one of the largest tech companies and with over 3 million followers on LinkedIn. During my research I discovered that Microsoft ranked number one on "LinkedIn's top 10 Influential Brands on LinkedIn" list. When you visit Microsoft's LinkedIn profile, you'll find that Microsoft is a customer-focused company, but they don't mind sharing the spotlight with their employees!
Microsoft's powerful presence, along with the quality content they share, encourages their audience to engage with them on important issues. If you want to boost interaction on LinkedIn, it's definitely time to take a page out of their playbook.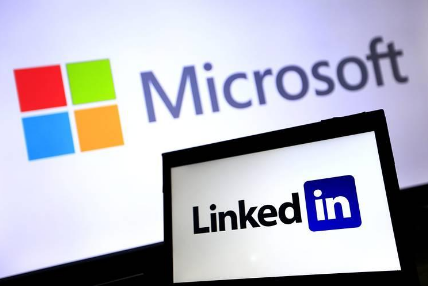 4. Entrepreneur: "The advisor"
Sharing content to help manage your company.
Entrepreneur. The name speaks for itself. Entrepreneur Media, Inc. connects with their consumers through books, magazines, online and at events using content that assists entrepreneurs with every aspect of running a business. With 2.5 million followers on Twitter, Entrepreneur is a trusted source, with their meaningful and detailed instructions on how to manage and grow a company.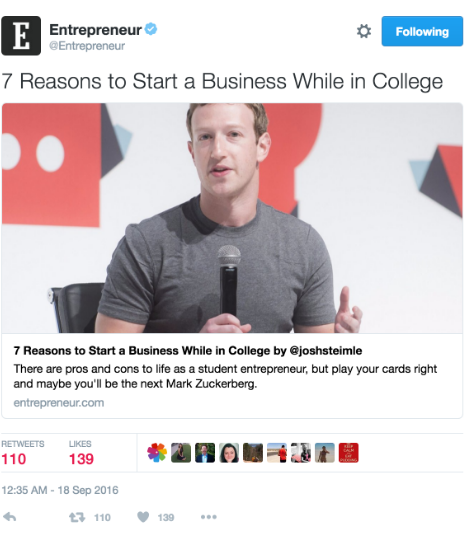 5. Etsy: "Personal branding"
Where buyers and sellers meet.
Etsy's Pinterest page, like the Etsy site itself, connects entrepreneurs with potential buyers. It allows their followers to pin unique creations to their profile. This creates a string of free advertising for their entrepreneurs when Etsy's Pinterest audience shares and comments. With their very elegant and unique photos, they attracted over 900 thousands followers and counting!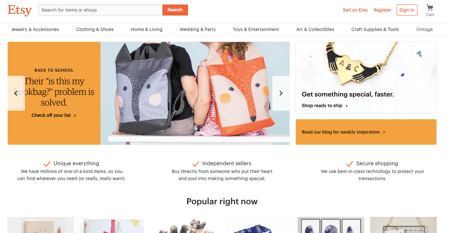 6. Foundr: "The motivator"
One step closer to success with inspirational quotes!
Foundr is a digital media business that covers "world-class" entrepreneurs, inspirational stories, how-tos and actionable and strategic advice. My first encounter with Foundr was on Instagram. I was attracted to their uniquely graphic photos and fever pitch quotes! With over 800 thousands followers, Foundr is definitely a go-to resource when you need inspiration and fresh ideas!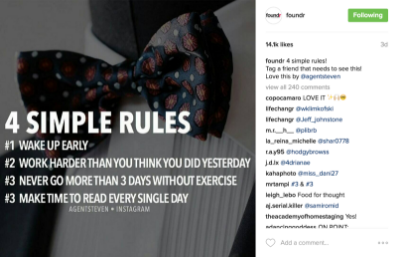 Here's a cool tip: Foundr asks their followers to tag their friends in posts they feel are relatable. This is not only Foundr engaging with their followers, but also a neat way to gain new followers!

Know of any brands that are rocking it on social media that I haven't mention? I love to hear about them, share them in the comments below!