6 Successful Entrepreneurs You Need to Follow Now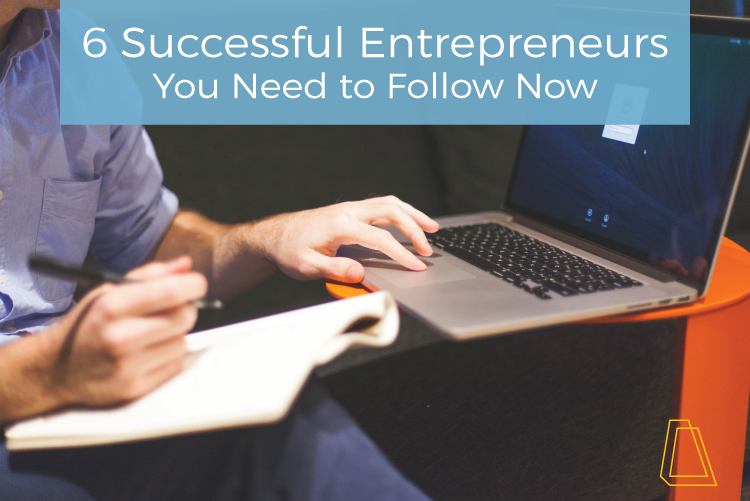 We all have a role model in our lives, whether they're a first grade teacher (shoutout to Miss Hasse), a parent or a coach. Now that I am in the business school at Marquette University and have met several entrepreneurs, I'm inspired by their work ethic and leadership skills. Due to this recent admiration for a different set of role models, I decided to create a list of 6 successful entrepreneurs you need to follow… NOW!

1. Eric Thomas
I like Eric Thomas because his success story is truly inspirational (like many others on this list). Born in Chicago, Illinois, and raised in Detroit, Michigan, Thomas dropped out of high school and was homeless for about two years. While he was homeless, he met a preacher that persuaded him to go back to school and eventually change the lives of many. He created a program to help underprivileged youth, is a motivational speaker, has written several books and started a company that offers executive coaching, consulting and athletic development.
Looking to follow him on social? I highly recommend subscribing to his YouTube channel. I especially love his TGIM (Thank God It's Monday) videos. Everyone needs a little Monday motivation!
2. Oprah Winfrey
This choice may not surprise you, but come on, she's a must! Oprah's childhood and teenage years were filled with broken homes, sexual assault and other severe challenges. Faced with adversity, she persevered and became a co-anchor when she was 19. After a successful run in the news, she transferred her skills to the daytime talk show sector. Eventually, she created her own production company. Aside from being the former host of The Oprah Winfrey Show, she is an author, actress and chairwoman and CEO of The Oprah Winfrey Network. I'm a big fan of Oprah's Instagram; I think you will be, too.
3. Gary Vaynerchuk
What can't Gary V. do? He is a four-time New York Times best-selling author, internet personality and speaker. He became well-known as a leading wine critic when he grew his family's wine business from $3 million to $60 million. He is now an angel investor/advisor for well known companies including Birchbox, Facebook, Snapchat, Uber and many more.
Gary V. is all over social media—he's a guru! Whether you like his Facebook page, follow him on Instagram (highly recommend for his live video content) or Twitter, subscribe to his YouTube channel or connect on another site, you'll be glad you did. Get ready for non-stop posts and real-time videos about motivation, entrepreneurship, business and more!
4. Sara Blakely
I am particularly grateful for Sara. She is an American businesswoman and the founder of Spanx. In 2012 she was in Time magazine's "Time 100" annual list of 100 most influential people in the world. In 2014, she was also listed as the 93rd most powerful woman in the world by Forbes.
Follow Sara Blakely on Instagram for inspiration, humor, fashion and a peak into her work-life balance!
5. Richard Branson
Branson is an English businessman, philanthropist and investor. He founded the Virgin Group, which controls and advises over 400 companies. At the young age of 16, he expressed a strong desire to become an entrepreneur and took on his first business venture. In 1970, Branson created a mail-order record business, which helped him transition into opening a chain of record stores known as Virgin Megastores. His brand continued to grow and during the 1980s, Branson set up Virgin Atlantic airlines and further expanded Virgin Records' music label. In 2002 he was named in the BBC's poll of the 100 Greatest Britons.
Richard Branson's Twitter account is incredibly motivational. Whether it's inspiring diversity in business, or sticking to your passions, he's a must-follow.
6. Sean Combs
Sean Combs, also known by his stage names P. Diddy and Puff Daddy, is a rapper, actor, songwriter, record producer and, of course, entrepreneur. Born in Harlem and raised in Mount Vernon, New York, he worked as a talent director at Uptown Records before creating his own label called Bad Boy Entertainment. Combs won three Grammy Awards and two MTV Music Video Awards. Outside of music, he has clothing lines called Sean Jean and Sean by Sean Combs. To top it all off, he has a movie production company and two restaurants.
He has a great social presence, too! Check him out on Instagram... is there anything he can't do?
There are hundreds of inspiring entrepreneurs that are worth following. This list doesn't even make a dent, but hopefully opens your eyes to the different industries and backgrounds of some of the world's most successful entrepreneurs. We can all learn a great deal from their drive and passionate attitudes and I hope you feel the same way!
Have any other entrepreneurs that you would like to add to this list? Share them in the comments below.