Getting Started on Twitter: Learn the Lingo
---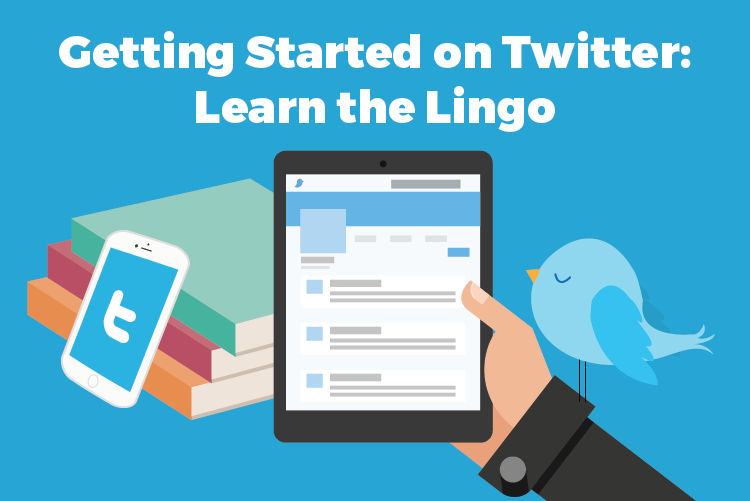 If you're just getting started on Twitter, or are thinking about diving in, it can seem intimidating compared to other social networks. The social site has its own rules, it has a 140-character limit per post (at least for now) and it even has its own language.
I remember when I first learned how to use Twitter in preparation of managing my current employer's account—it was a little scary! But I promise, once you get the hang of it, using Twitter becomes second nature. To help you make sense of all the unique lingo you'll encounter as you get started on Twitter, this blog offers a glossary of the terminology you may come across.
---
Twitter handle
This is your identifier on Twitter – an @ symbol followed by your chosen user name. For instance, my handle is @olsenaj.
Tweet
This is a post on Twitter. Tweets are limited to 140 characters, though Twitter has hinted it may expand that character limit soon. 140 characters may not seem like much, but you get used to it quickly and it forces you to make your posts concise.
Link shorteners
A link shortener lets you paste URLs in your tweets while staying within the character limit. One popular example is Bitly. You can sign up for Bitly, or another link shortener account, and sync it with your Twitter account for easy link shortening.
Follow
When you follow someone, you can see everything they tweet in your Twitter feed. However, they must follow you back if you want them to see what you tweet. This is the equivalent of someone "liking" your page on another network.
@mention
If someone wants to speak directly to you, they will include your Twitter handle in their tweet. For instance, someone might ask me, "@olsenaj how was your day today?" If someone mentions you in their tweet, you will get a notification from Twitter so you can respond.
Retweet (RT)
Retweeting is a common way to share content on Twitter. You can either share someone's original tweet to your followers, or share it while also adding your own comment. If someone retweets your content, it is common Twitter courtesy to say thank you.
Hashtag (#)
A hashtag is a keyword, linked with the pound symbol (#). Hashtags allow people looking for particular topics to find related tweets (for example, #entrepreneurship, #productivity). Using hashtags can increase the visibility your content, allowing it to be viewed by a larger audience than those accounts who are following you.
Direct message (DM)
For private conversations, you have the option to send someone a direct message. The person must be following you in order to send them a direct message, unless they have selected Receive Direct Messages from anyone in their security settings.
Hopefully this guide makes you feel a little more comfortable about getting started on Twitter. If you're ready to take the next step, be sure and read my recent blog about how to create an effective Twitter profile for your business. If you're looking to boost your social media marketing efforts, check out our free ebook, or connect with Milwaukee marketing agency, Accelity.