If You're a New Kid on the Marketing Block, Here is the Marketing Terminology You Should Know
---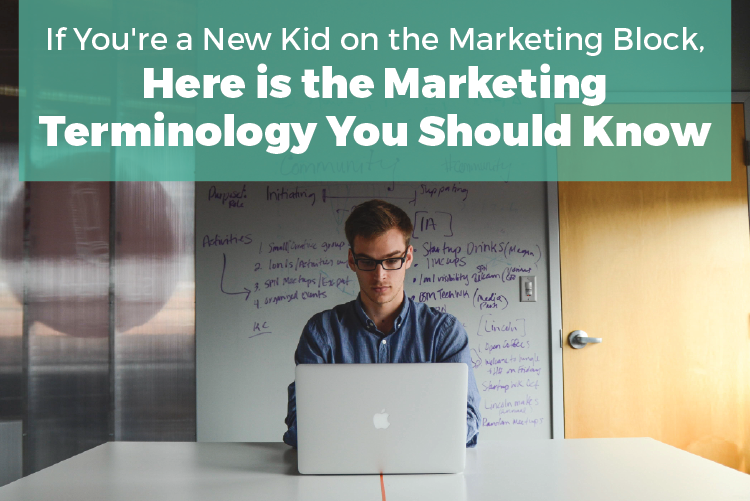 When I was a kid I moved to different cities a lot. With every move came a new set of friends, a new school and a new set of norms and terms I had to familiarize myself with in order to fit in. Whether you're a first time entrepreneur without any (or minimal) marketing experience, a student taking your first marketing job or internship or just someone who has an interest in learning more about marketing, then there will be a lot of terms and norms that you have to make sense of as well. Nobody likes to be the new kid on the block, so I've put together a list of marketing terminology to help you get started.
---
Business to Business (B2B)
This term is pretty simple, but it is very important in the world of marketing terminology. B2B is short for business-to-business and it means that businesses market their services to other businesses. It's important to distinguish a business marketing to another business, rather than a consumer, because it will affect the content you create, your value proposition and more.
Here are ten great examples of B2B content marketing.
Business to Consumer (B2C)
Just like B2B stands for business to business, B2C stands for business-to-consumer. It refers to any business that sells their products or services directly to the consumer.
Content Marketing
Most brands have added content marketing to their digital marketing campaigns and for great reason. Content marketing is a marketing strategy that focuses on pushing out valuable and relevant content to followers. The content that's shared gives insight into your brand's unique voice and the topics in which you specialize. Whether your goal is to increase website traffic, generate more leads or build awareness, your content should always benefit your followers.
Lead
In marketing, a lead is a person or business that shows interest in a company's product or services. When it comes to digital marketing, a lead may express that interest by downloading a whitepaper, subscribing to an email list, clicking on an advertisement, etc.
ROI
ROI is short for return on investment. As marketers we have to constantly prove our worth and prove the worth of our marketing efforts. How do we do this? By showing that the profit is greater than the overall cost.
Here are a couple of additional terms I always take into consideration when looking at ROI.
SEO
Search Engine Optimization is the work that goes into improving a company's rank in a search result page. Because algorithms for popular search engines are constantly changing, SEO is definitely something that is difficult to master, but it is a skill that is invaluable.
Traffic
When marketers talk about traffic, they are referring to the amount of visits, shares, tweets and other data involving a particular site. As marketers we want high traffic because the more traffic that a particular site has, the more leads it will generate.
Here are a few marketing norms to think about as well...
Analytics are your friend.
This is probably not something I should admit, but I failed basic college algebra—twice. Needless to say, I am not a fan of math. However, when it comes to proving ROI, you can't be afraid of numbers. You have to be able to look at a cluster of numbers, make sense of them and then help others understand them, too. If you're like me, it's time you got over your fear of numbers and learned your way around marketing analytics. Here is a guide to help you get started.
(And, if you're wondering, I did eventually pass that class).
Have you generated sales?
The amount of clicks, opens, visits and other vanity metrics, matter but if you can't prove that these things generate cash-flow they have no place in proving your marketing ROI. Focus on how your marketing efforts have resulted into dollars, because when it comes to business that's what really matters.
Do you Have S.M.A.R.T. goals?
Because marketing is all about generating sales and increasing awareness, you should set specific, measurable, attainable, realistic and timely goals that you can track. For example, if you want to increase your content marketing efforts and generate more leads, you may set a goal to have 1000 visits to your website in a month.
This is only the beginning of the marketing terminology that you will see throughout your career. For a complete guide, check out our free ebook, 76 Content Marketing Terms That Every Marketer Needs To Know.