3 Steps to Getting Started with Account-Based Marketing for Improved SaaS Lead Generation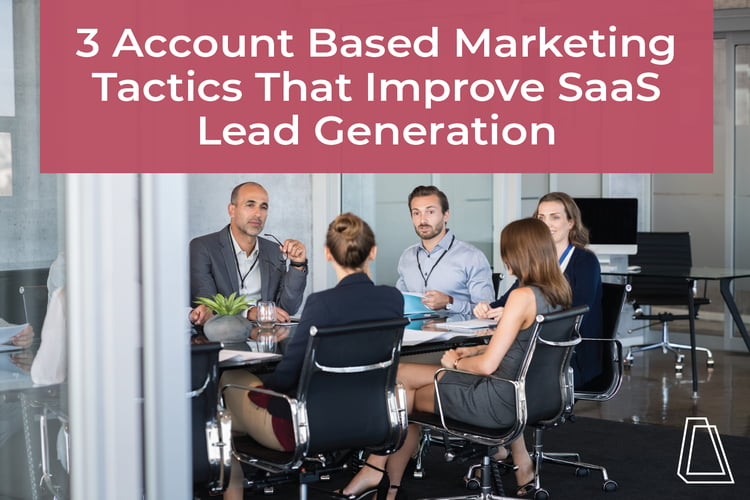 Account-based marketing is a popular alternative to—or maybe sister to—inbound marketing. Where inbound concentrates on generating single leads (people), account-based marketing targets, well… accounts. Makes sense, right?
At Accelity, we practice a hybrid of inbound and account-based marketing. Of course, as an inbound agency, we run full inbound programs for ourselves and our clients every month and are successful in generating quality leads for both. When our account managers work to meet specific SaaS lead generation goals for our clients, we follow these steps:
First, choose your target accounts.
At Accelity, we have a top 25 local accounts list that outlines everything we need to know about the 25 most attractive Midwest B2B SaaS companies. These are companies that fit our ideal client profile, which outlines industry, company size, etc. As a startup, we like to keep this process pretty simple—it's a spreadsheet that includes the following:
Company name
Website
Key decision-maker(s)
Decision-maker email (if available)
Company and decision-maker Twitter
Company and decision-maker LinkedIn
Other social information
Ready for inbound services? (This is based on the appearance of their website, any funding information, current vendors, etc.)
Connection (If there is a professional connection or even a mutual LinkedIn connection, list it here.)
Second, interact with your target accounts.
This is where you do everything you possibly can to get the decision-makers from your target accounts opted into your marketing. Follow their company on social platforms from your company and personal accounts. Interact, respond, retweet, etc. Send the prospect content that they might be interested in via social. Target decision-makers and executives with social ads.
Third, once they've opted in, let your content do the work.
If your content marketing strategy is on point, you'll be able to track your prospect's every interaction once they've opted in on your site. If you have lead scoring set up, this is where it comes into play, assigning points to their demographics and activity-based information, then alerting you when the prospect is warm.
If your prospect doesn't get themselves over the "qualified" line alone, it always helps to give them a little push. Take a look at the contacts in your target accounts to see who you can lead over that line by sending a personalized 1:1 email with content similar to something they've downloaded before, an interesting blog, or something similar.
Alternatively, ask for an introduction.
If you don't have the content marketing system in place to warm the lead up further, ask for an introduction from a friend, mutual connection on LinkedIn, professional connection, etc. It's always best to let prospects come to you in their own time, hence the value of a strong inbound program. However, if you've already completed step two, the prospect will likely be aware of your existence and recognize your or your company's name when you reach out.
Do you have any other actionable account-based marketing strategies? What B2B SaaS lead generation tips have worked for you? Leave a comment below. If you're looking for additional tips, download this helpful resource or watch the video below!