5 B2B SaaS Lead Generation Strategies That Kickstart Sales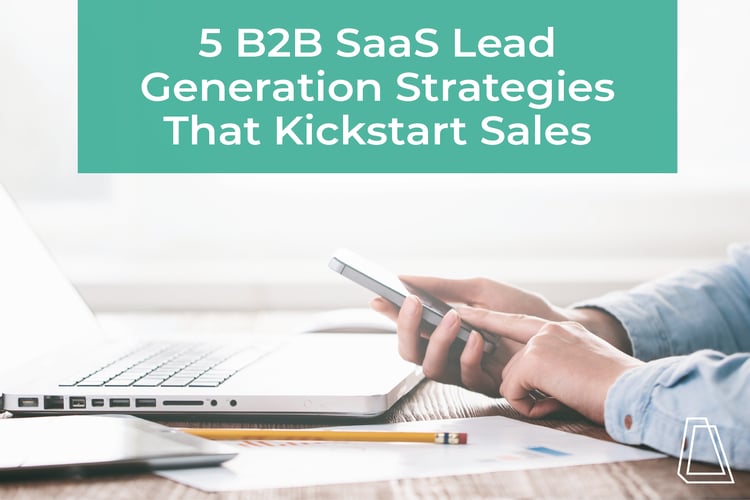 Generating quality leads is a critical task for any SaaS startup. Here at Accelity, we favor SaaS inbound marketing, which focuses on creating beneficial content, attracting leads interested in that content and then nurturing throughout the sales cycle.
One of the major benefits of inbound marketing is when prospects download or interact with content of a specific topic, they're demonstrating their interest. This allows them to essentially "raise their hand" on that topic, implying they'd like more information or help and also ensures you're interacting with warm leads rather than cold ones.
In this blog, I'll share five SaaS lead generation strategies that you may not be using but should consider adding to your repertoire.
1. Seek out guest blogging opportunities.
Guest blogging is a way to get your brand, story and/or content in front of a larger audience. Your goal is to find guest blogging partners that complement your business. So, if your product targets HR professionals, seek out guest blogging opportunities for publications that HR pros read.
Guest blogging is best when it's a win-win scenario. You get to reach a new audience, and the publication gets free content from you. Make sure to optimize your effort spent here, though. Include an author bio that mentions your company and links to your website. Your goal is to get people interested, and then visit your website to learn more.
2. Engage in Facebook and LinkedIn groups.
Facebook and LinkedIn groups provide great opportunities to reach prospective clients. There are groups on any topic imaginable, so choose ones that fit your niche best. Specifically, choose groups where your target customer hangs out.
Of course, you don't want to just sell when you join the group. Provide beneficial content and advice regularly, comment on others' posts and answer questions.
You can join our Startup Growth Group on Facebook here!
We know how important content is, but it's also time-consuming to create. That's why you should make the most of every content piece you produce. When you have a new blog post or other content offerings, share as widely as possible on the following:
All your social media channels (share multiple times)
Facebook and LinkedIn groups
Banner ads/retargeting ads
Emails
Website
Beyond sharing as much as possible, think about how you can get more mileage out of that piece of content, by repurposing it into a different format. For instance, if you write a blog, use that same content in additional ways, like creating:
In-depth ebooks
SlideShare presentations
Infographics/checklists
Templates/"swipe" files
Podcasts
Doing so helps you quickly grow your content library with different formats that appeal to different individuals.
4. Demonstrate your expertise with Quora.
Websites like Quora are an excellent place to support SaaS lead generation. People who spend time on Quora are either looking for answers or want to learn more about a particular topic. Create an account on Quora and work to establish yourself as an expert. Use a detailed profile with your credentials and seek to answer questions that fit your niche.
For instance, after you write a blog, search Quora for questions that relate to that topic, then answer the question and link back to your blog post. This is a great way to boost your online profile, build relationships and attract people interested in your offering.
It's crucial to ensure you're providing value to your target audience and avoiding being too spammy so you don't get flagged.
5. Get offline.
So much of SaaS lead generation is focused on online activities, but you shouldn't neglect offline strategies. Spend time at networking events, volunteer to speak at a conference or event, attend industry functions, etc. Choose locations where your target customer is likely to spend time and then get networking.
If you are an event speaker or have a booth at a conference, consider bringing copies of your best content piece, to hand out along with business cards.
SaaS lead generation can take many forms; there are countless strategies to attract quality leads. What are your favorite SaaS lead generation strategies? (Share in the comments below!)
Need help with B2B SaaS lead generation? Grab our ebook, or request a free consultation.
Want additional B2B SaaS lead generation tips? Watch the video below!